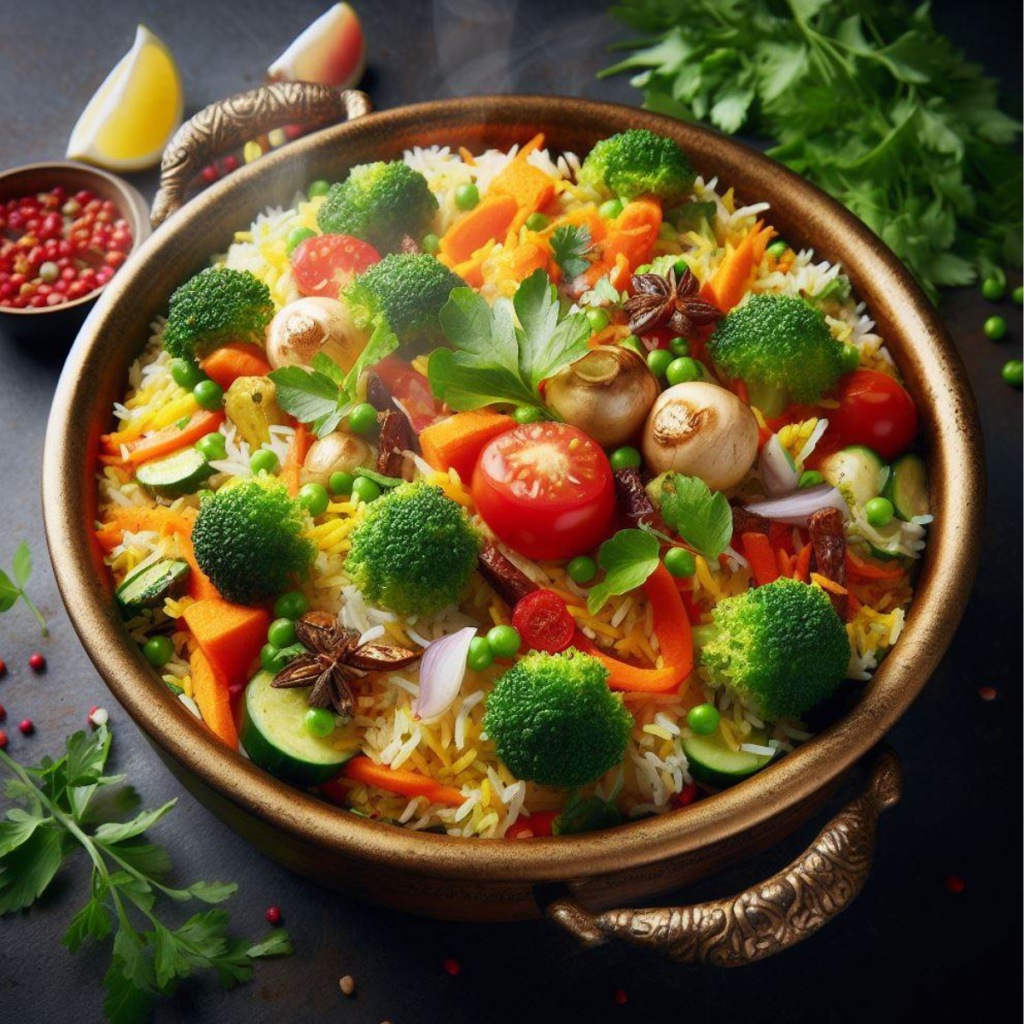 Embark on a culinary journey to South India with our aromatic Vegetable Biryani, a flavorful rice dish enriched with a medley of vegetables and spices. Transport your senses to the southern part of India with the tantalizing aroma and rich taste of our Fragrant Vegetable Biryani.
Fragrant basmati rice, vibrant vegetables, and a blend of aromatic spices come together in this classic South Indian dish, creating a symphony of flavors that will make your dinner memorable.
Primary Ingredients:
2 cups basmati rice
1 cup mixed vegetables (carrots, peas, beans, etc.)
1 large onion (sliced)
1 large tomato (chopped)
1/2 cup plain yogurt
1/4 cup ghee or vegetable oil
2 tablespoons biryani masala
1 tablespoon ginger-garlic paste
1 teaspoon cumin seeds
Whole spices (bay leaves, cinnamon, cardamom, cloves)
Fresh coriander and mint leaves for garnish
Preparation Instructions:
Rinse the basmati rice and soak it in water for 30 minutes. Drain.
In a large pot, heat ghee or oil. Add cumin seeds and whole spices.
Sauté sliced onions until golden brown, then add ginger-garlic paste and chopped tomatoes.
Add mixed vegetables and biryani masala, cooking for 2-3 minutes.
Mix in the soaked and drained basmati rice, coating it with the vegetable mixture.
Stir in yogurt and add enough water to cook the rice. Season with salt.
Cover and simmer until the rice is cooked and the vegetables are tender.
Garnish with fresh coriander and mint leaves before serving.
Nutrition Information: (per serving)
Calories: 350
Protein: 8g
Fat: 10g
Carbohydrates: 60g
Conclusion:
Vegetable Biryani is a soul-satisfying South Indian dish that combines fragrant rice with a burst of vegetables and aromatic spices for a truly delightful dinner.