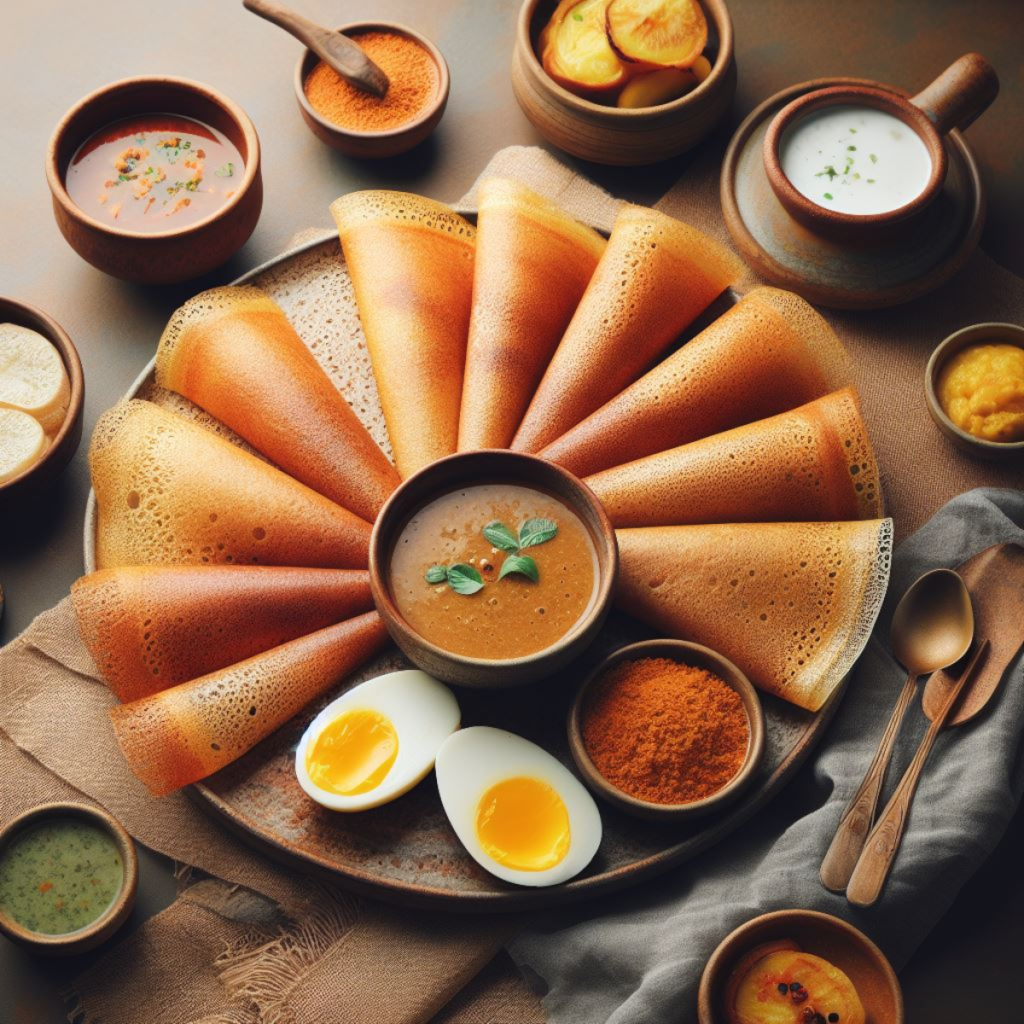 Bring the iconic flavors of South Indian street food into your home with our Crispy Masala Dosa recipe, a delectable combination of a crispy rice crepe and a spiced potato filling. Experience the magic of South Indian cuisine with the crunch of our Crispy Masala Dosa and the burst of flavors from the potato masala filling.
Thin, golden dosas filled with a flavorful potato masala – this is the essence of South Indian comfort food. Learn how to recreate the magic of street-side dosa stalls in your kitchen.
Primary Ingredients:
For Dosa Batter:
2 cups rice
1 cup urad dal (black gram)
Salt to taste
For Potato Masala Filling:
4 large potatoes (boiled and mashed)
1 onion (finely chopped)
2 green chilies (slit)
1 teaspoon mustard seeds
1 teaspoon cumin seeds
A pinch of asafoetida (hing)
Curry leaves
Turmeric powder
Salt to taste
Ghee or vegetable oil for cooking dosas
Preparation Instructions:
Soak rice and urad dal separately for 6 hours or overnight. Grind to make a smooth batter.
Ferment the batter for 8 hours or until it doubles in volume.
In a pan, heat ghee or oil. Add mustard seeds, cumin seeds, asafoetida, and curry leaves for the potato masala filling.
Add chopped onions, green chilies, and turmeric powder. Sauté until onions are golden.
Mix in the boiled and mashed potatoes, seasoning with salt. Set aside.
Heat a dosa pan, ladle dosa batter, and spread thinly. Drizzle ghee or oil.
Place a portion of the potato masala filling in the center of the dosa.
Fold the dosa and serve hot with coconut chutney and sambar.
Nutrition Information: (per serving)
Calories: 300
Protein: 6g
Fat: 10g
Carbohydrates: 50g
Conclusion:
Crispy Masala Dosa is the epitome of South Indian street food, offering a delightful combination of crispy dosa and spiced potato filling that's perfect for a comforting dinner.