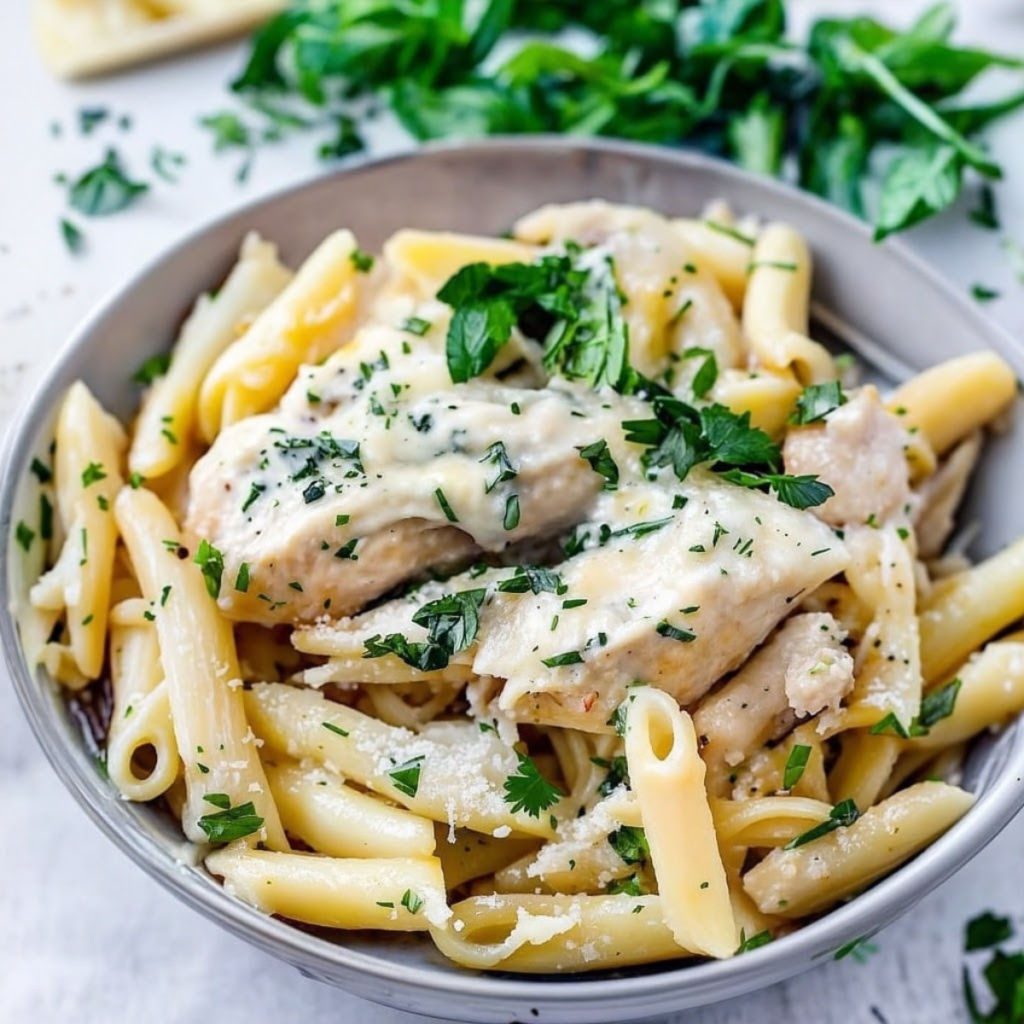 As a culinary enthusiast with a passion for creating delightful and comforting meals, I bring you a decadent yet easy-to-make Creamy Garlic Parmesan Chicken Pasta. With years of experience and a love for experimenting in the kitchen, this recipe is a testament to my dedication to delivering delicious dishes for all skill levels.
Elevate your pasta game with this Creamy Garlic Parmesan Chicken Pasta—a symphony of flavors that will leave your taste buds dancing. Imagine tender chicken coated in a velvety Parmesan sauce, mingling with perfectly cooked pasta. Ready to embark on a culinary journey? Let's dive in!
Growing up with a love for Italian cuisine, this Creamy Garlic Parmesan Chicken Pasta has been a staple in my family for generations. The combination of garlic, Parmesan, and succulent chicken creates a dish that's both comforting and sophisticated. It's a go-to recipe for gatherings and lazy Sunday dinners alike.
Primary Ingredients:
1 lb boneless, skinless chicken breasts
8 oz fettuccine pasta
4 cloves garlic, minced
1 cup heavy cream
1 cup grated Parmesan cheese
Salt and pepper to taste
Fresh parsley for garnish
Preparation Instructions:
Cook pasta according to package instructions.
Season chicken with salt and pepper, then sauté in olive oil until cooked through.
In the same pan, add minced garlic and cook until fragrant.
Pour in heavy cream, bring to a simmer, and stir in Parmesan until melted.
Toss cooked pasta and sliced chicken in the creamy sauce.
Garnish with fresh parsley and additional Parmesan.
Nutrition Information:
(Per Serving) – Calories: 550 – Protein: 35g – Carbohydrates: 40g – Fat: 28g – Fiber: 2g
Conclusion:
Indulge in the richness of this Creamy Garlic Parmesan Chicken Pasta—a dish that effortlessly combines simplicity with elegance. Whether it's a weeknight treat or a special occasion, this recipe promises to satisfy your cravings for a hearty and flavorsome meal.