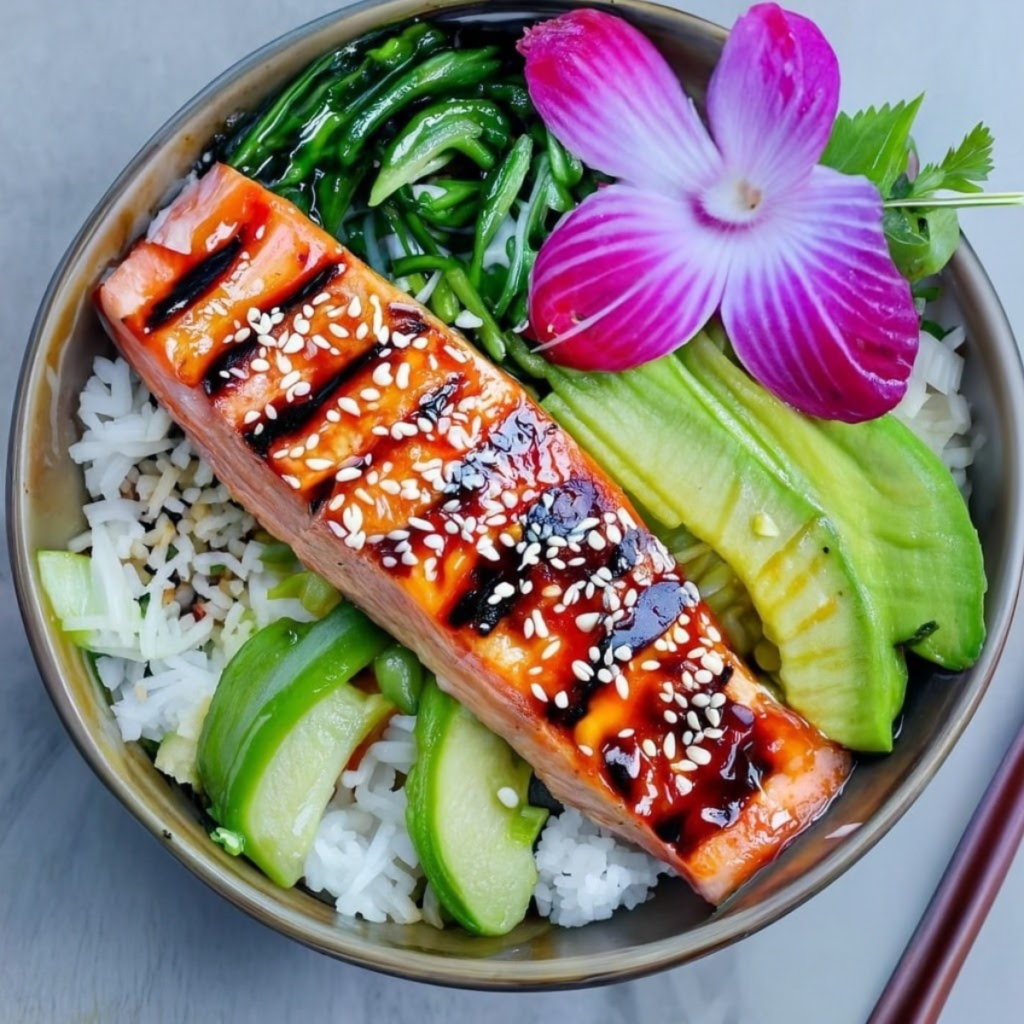 Unleash the magic of homemade teriyaki sauce in this delightful salmon bowl that combines the richness of salmon with the sweetness of teriyaki. Dive into a bowl of goodness with our Teriyaki Glazed Salmon Bowl, where each bite is a burst of flavor.
Succulent salmon fillets glazed with a homemade teriyaki sauce, served atop a bed of fluffy rice and crisp vegetables, create a harmony of textures and tastes in this unforgettable bowl.
Primary Ingredients:
4 salmon fillets
1 cup white rice (cooked)
1 cup broccoli florets
1 carrot (julienned)
1/2 cup teriyaki sauce (homemade or store-bought)
2 tablespoons sesame seeds (for garnish)
Green onions (chopped, for garnish)
Preparation Instructions:
Preheat the oven to 400°F (200°C).
Place salmon fillets on a baking sheet lined with parchment paper.
Brush each fillet with teriyaki sauce, reserving some for later.
Bake for 15-20 minutes or until salmon is cooked through.
In a pan, sauté broccoli and carrot until crisp-tender.
Assemble bowls with a base of cooked rice, topped with sautéed vegetables, and glazed salmon.
Drizzle remaining teriyaki sauce over each bowl and garnish with sesame seeds and chopped green onions.
Nutrition Information: (per serving)
Calories: 450
Protein: 30g
Fat: 15g
Carbohydrates: 50g
Conclusion:
The Teriyaki Glazed Salmon Bowl is a celebration of Asian-inspired flavors, bringing a restaurant-quality dish to your dinner table.